A crude pipeline to southwestern China through its neighbor Myanmar began operations after years of delays, allowing the world's second-biggest oil user to receive supplies faster from the Middle East and Africa.
A Suezmax-sized tanker, which can hold 140,000 metric tons (about 1 million barrels) of crude, began offloading oil for the pipeline on Monday at Myanmar's Made Island, according to China's official Xinhua News Agency. Operations on the line, which was completed in 2014 and originally scheduled to start the same year, are beginning after the government of Myanmar agreed to lower transit fees, Wang Dongjin, president of PetroChina Co., said last month.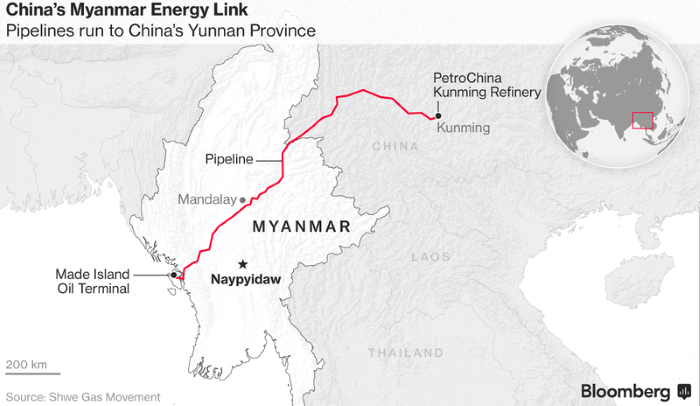 The link, which allows China to import crude from the Middle East and Africa without having to ship through the Straits of Malacca and into the South China Sea, is part of President Xi Jinping's "One Belt, One Road" infrastructure and trade development plan stretching across Asia to Africa and Europe.
"It may send a message to those countries that are still hesitating about whether to participate that the initiative is China's top national strategy and can bring economic benefits to participants," said Fan Hongwei, an international relations professor at Xiamen University who specializes in Myanmar.
Trial operations began in 2015 on the 771-kilometer (479-mile) pipeline, which is designed to carry 22 million tons of crude a year (about 442,000 barrels a day). Myanmar can take 2 million tons of crude annually from the line, Xinhua reported.
For Myanmar, the initial benefits are probably minimal, said Suresh Sivanandam, a senior research manager for Asia refining at Wood Mackenzie Ltd. The country may get a small amount of oil and some revenue from oil storage and pipeline tariff fees, while experience from China in building energy infrastructure will be a boon for the country later, he said.
Myanmar Benefits
"Myanmar is growing very fast, and sooner rather than later they might need more oil refineries," Sivanandam said. "The process of building energy infrastructure should help them in the long run to meet growing domestic demand."
The Suezmax tanker United Dynamic arrived at Myanmar around April 9 after loading oil from the Baku-Tbilisi-Ceyhan terminal in Turkey on March 5, according to ship-tracking data compiled by Bloomberg.
The pipeline ends in China's Yunnan province, where PetroChina has built an oil refinery with the capacity to process 13 million tons a year (about 261,000 barrels a day) of crude. China's biggest oil and gas company is in talks with Saudi Arabian Oil Co. about investing in the plant, which will begin operations in June, Wang said last month.
PetroChina finished building the refinery in the provincial capital Kunming about six months ago and has been waiting for pipeline deliveries to start, according to Sivanandam. It will take about 12 million barrels of crude to fill the pipeline before deliveries can start, he said.
Refinery Output
Once the refinery begins, it will sell products in southwest China, displacing gasoline and diesel from refineries in central and southern China, he said. That will likely increase the country's net exports of refined products, which rose to a monthly record of 2.85 million tons in November.
China and Myanmar on Monday signed an agreement on the pipeline, as well as eight other cooperation documents, after talks between Xi and Myanmar President Htin Kyaw, who is visiting China from Thursday to Tuesday, state-run China Daily reported.
China's crude imports rose almost 14 percent last year, the fastest annual pace since 2010, and touched a record in December of 8.6 million barrels a day.
"It opens another channel for China to diversify oil imports," said Tian Miao, an analyst at North Square Blue Oak Ltd. in Beijing.
China is also fed by a parallel natural gas pipeline that runs through Myanmar to Yunnan province, designed to carry 12 billion cubic meters annually. PetroChina's parent company, China National Petroleum Corp., began to import gas from Myanmar in 2013, according to a statement on its website. Shipments totaled 2.86 million tons last year, customs data show, accounting for about 5 percent of the country's total imports.
Companies including Total SA and Woodside Petroleum Ltd. are exploring for resources offshore Myanmar. The country had about 18.7 trillion cubic feet of proven gas reserves as of 2015, or about 3.4 percent of the Asia-Pacific total, according to BP Plc data.
Source: Bloomberg