Hedge fund billionaire Paul Singer's push for a strategy change at BHP Billiton is rattling debt investors in the world's biggest miner much less than iron ore's slide into a bear market.
As the value of BHP's top-earning commodity started to plunge this year, the cost of insuring the producer's bonds against non-payment has been driven higher. Five-year credit default swaps rose to 79 basis points as of Tuesday, up 13 basis points from a two-year of low on Feb. 22, according to CMA data.
There's been little reaction this week in BHP's credit default swaps this week, moving in line with the benchmark, after Singer's Elliott Management Corp. disclosed Monday it has been pressing management to change strategy, through an overhaul of BHP's corporate structure and a spinoff of an estimated $22 billion of U.S. oil assets.
"From a sentiment point of view, having an activist shareholder on board typically solicits a cautious response from bondholders," Sydney-based Citigroup Inc. credit sector specialist Anthony Ip said by phone. For BHP, "the iron ore move, as it's lost 20 percent to 25 percent, has been more significant," he said.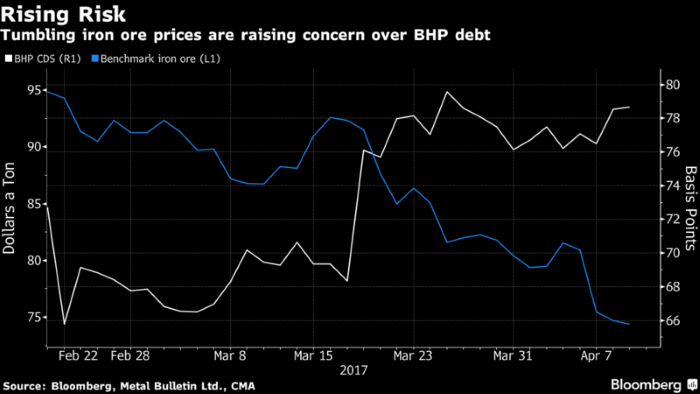 Since touching a more than two-year high in February, benchmark iron ore prices have lost about 22 percent amid concern that seaborne supplies are rising just as steel demand in China shows signs of softness. Ore with 62 percent content in Qingdao fell Tuesday for a fourth straight session to $74.38 a dry metric ton, according to Metal Bulletin Ltd.
BHP, the third-largest iron ore exporter, sees downward pressure on prices in the second half of the year as global supply and stockpiles increase, a senior company executive said last month. The steelmaking ingredient may fall to average $58 a ton in the final three months of 2017, according to the median of 13 analysts' forecasts compiled by Bloomberg.
Iron ore prices probably will have more significant impact on CDS moves than Elliott's demands, said Gavin Goodhand, a debt investor at Altius Asset Management, which holds BHP notes, adding that he doesn't see the hedge fund's proposals as being of concern at the moment. "BHP said they constantly do reviews on these sorts of things anyway and activist shareholders always have a particular theme or direction they want to take."
Singer's Elliott, which said Tuesday it believed it's held "constructive" meetings with BHP's management is pushing the company to return more money to investors through buybacks, spin off of an estimated $22 billion of U.S. oil assets and shift to a primary listing in the U.K. under a corporate overhaul. BHP has dismissed the plans as too costly to justify any potential benefits and is preparing a more detailed response, the Melbourne-based company said Monday.
In a presentation responding to Elliott's proposals on Wednesday, BHP said a $6 billion buyback would return the company's net debt to historically high levels and "negatively impact" its credit metrics and gearing levels.
BHP's bond spreads will widen if the company implemented Elliott's proposals around share buybacks, said Raymond Lee, a money manager who helps oversee A$10 billion ($7.5 billion) at Sydney-based Kapstream Capital Pty, which sold its BHP bond holdings about two years ago because of volatility in commodity markets. "If they want to fund it with debt , then that will lever the company. That's definitely bad for the bonds," he said.
Source: Bloomberg