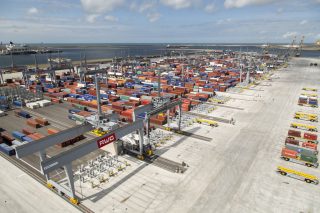 Dutch Port of Rotterdam has seen a 8.8 percent increase by volume to 3.3 million TEU in its container sector during the first quarter of 2017, the port figures show.
"For containers, this was the best quarter ever, and March was a record month. The Rotterdam container companies have performed strongly in a market experiencing only limited growth,"said Allard Castelein, CEO of the Port of Rotterdam Authority.
" We shouldn't rejoice too soon, but with the new sailing schedules which are favourable to Rotterdam taking effect this month, this looks set to be a good container year for us."
Container throughput increased 10.8% by weight to 34.3 million tonnes, which the port believes is significantly more than the market average.
According to the port authority, activity at the new terminals on Maasvlakte 2 is improving all the time, and shipping companies have brought back to Rotterdam substantial quantities of transshipment cargo that had been moved elsewhere in late 2015 and early 2016.
This is said to be reflected in the sharp increase in the feeder volume, which went up by 22.4% to 5.9 million tonnes.
"To an extent, the shipping companies also seem to be anticipating the new shipping schedules introduced in April, which are especially favourable to Rotterdam for the important connection to the Far East. It is expected to take another few months before the effect of this is really clear," the port authority said.
Overall, in the first quarter of 2017, 2 % more goods passed through the Port of Rotterdam than in the same period last year.The total throughput volume increased to 119.3 million tonnes.
The total throughput of the breakbulk segment-RoRo and other cargo- increased by 14.5% to 7.6 million tonnes.
In the liquid bulk segment, more crude oil (+2.3%; 26.6 million tonnes) and more LNG (+65.6%; 0.2 million tonnes) were handled. The throughput of mineral oil products (-11.1%; 21.7 million tonnes) and other liquid bulk (-9.2%; 7.0 million tonnes) decreased. In total, liquid bulk throughput decreased by 4.7% to 55.6 million tonnes.
Dry bulk throughput rose 3.6% to 21.7 million tonnes.