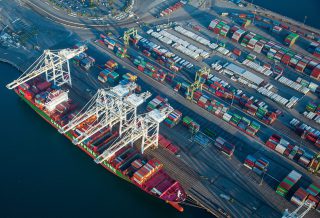 The US Port of Long Beach has recorded its best first quarter since 2007, mainly driven by a 20.2 percent increase in March import container volumes, the port said.
During the first three months of this year, the port handled a total of 1.6 million TEUs, a rise of 1.5 percent compared to the same period of 2015.
All segments of containerized cargo grew year-over-year in the opening quarter of 2017, as imports climbed 2.1 percent, exports 0.4 percent and empties 1.4 percent.
"We're happy to see these gains during the traditionally slow period of the year," Lori Ann Guzmán, Long Beach Harbor Commission President, said.
"We see a lot of upside for the remainder of 2017 as we expand our partnership with the world's second-largest line, Mediterranean Shipping Company, add new business and strengthen our relationships with our partners," Guzmán added.
In March, dockworkers offloaded 249,534 TEUs from vessels. As shipments to overseas markets continue to face challenges due to the strong dollar, exports decreased 5.3 percent to 120,435 TEUs.
In addition, empties numbered 135,413 containers, up 4.2 percent.
The Port of Long Beach moved a total of 505,382 TEUs last month — an 8.7 percent increase.
In a separate announcement, Carnival Cruise Line said it will begin a multimillion-dollar renovation of its Long Beach Cruise Terminal facility to accommodate larger ships and enhance terminal operations.
The renovation will increase the space Carnival currently occupies in the terminal facility from approximately 66,000 square feet to 142,000 square feet.
The project also includes the expansion of portside "cold-ironing" to enable larger ships to plug into the local electric grid to reduce exhaust emissions while docked.