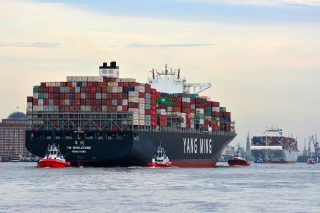 Dredging of the river Elbe must take place, Angela Titzrath, Chairwoman of Hamburger Hafen und Logistik (HHLA) said, reacting to the the decision of the German Federal Administrative Court that the dredging plan needs revisions due to environmental concerns.
The court declared on February 9, 2017, that the existing plan to adjust the navigation on the Lower and Outer Elbe River is "partially illegal and not enforceable because of the violation of the habitat protection law", further delaying its implementation.
"Following the lengthy proceedings and in light of the stark competition between the major European ports, I would have hoped for a ruling that did not result in a further delay to the dredging of the river Elbe," Angela Titzrath said.
"We, therefore, expect those involved in the proceedings to eliminate the existing uncertainties as quickly as possible. The dredging of the navigation channel must take place quickly to ensure that the Port of Hamburg remains competitive," the chairwoman added.
"It is in the interests of the city and its citizens that all responsible parties now work closely with one another. HHLA deems a goal-orientated dialogue involving political representatives, the relevant authorities at the port, associations and companies to be beneficial," Titzrath concluded.
According to the plan, around 130 kilometers of the river would be dredged, enabling boxships with a 14.5-meter draught to reach the port, against 13.5 meters at present.
Opposers to the plan are the country's environmental organizations including NABU, BUND and WWF, which claim that the project has a negative impact on plant species and ecology of the water.
Separately, Jens Meier, CEO of Hamburg Port Authority, commenting on the court's decision, explained: "We will concentrate on the questions of possible fluctuations of the salinity of the Elbe and habitat protection impact assessment. The requirements of the additional compensation areas are to be taken into account in the planning too."
Additionally, Ingo Egloff, joint CEO of Port of Hamburg Marketing, pointed out: "We regret the repeated time delay in implementing the measure. Important is that for shipping on the Elbe and operations in the Port of Hamburg nothing will change. Up to now, we have been able to handle the largest containerships; this will be so in the future too. There will be no deterioration."