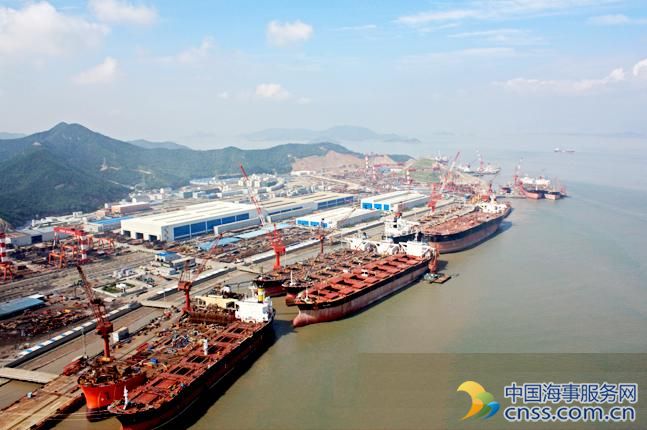 In an operational update for 1Q17, released on 28 April 2017, OOIL reported an unaudited container shipping revenue of USD 1185m, up 6% y/y, but down 9% q/q. The company's key drivers of revenue growth –Asia/Europe and Transpacific routes – recorded gains of 29% and 11% respectively, while the volumes on these routes increased by 18% and 20% during the same period. The average revenue per teu reported at USD 806 in 1Q17 is the highest in the past four quarters, but remained almost flat on y/y basis. Route wise, the rates came in 10% higher on the Asia-Europe route, but softened on both the Transpacific and Transatlantic routes, which witnessed a negative growth of 8% and 14% y/y respectively. The freight rates on Intra-Asia/Australasia remained flat compared to last year. Additionally, while the loadable capacity increased by 1%, the overall load factor was 5% higher than in 1Q16.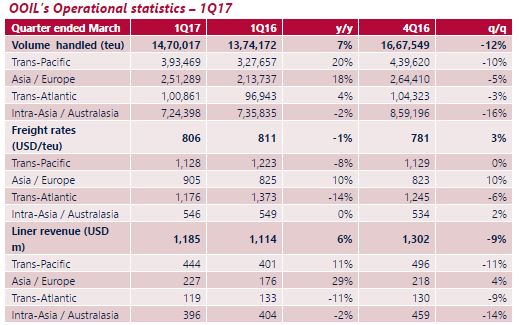 Source: Company, DFRS
Rebound in Transpacific – a good omen for OOIL. A strong demand recovery in the US has been driving a rebound in the volume and spot rates for the Transpacific trade since 4Q16. When combined with the rates holding up better post the CNY holidays, this drove OOIL's revenue and volume growth for 1Q17 on y/y basis. With the Transpacific route being one of its core revenue drivers, the developments will hold OOIL in good stead. Drewry's data suggests that the East-West Freight Rate Index in 1Q17 was about 40% higher than in 2016. We believe rates on both East-West trades and globally will continue to improve in 2017 and help OOIL remove its red ink from its income statements last year.
Six vessel deliveries this year could strain its balance sheet: In our view, despite OOIL being in the red in FY16, it remains a safe bet. However, its six 20k teu vessels, which are due for delivery this year, could strain its balance sheet as the company will have to fork out a lot of money when the vessels are actually delivered. Based on its FY16 results, the total cash on its book was USD 1.6bn – 19% down compared to the previous year. Its leverage (Net-debt-to-Ebitda) was around 8x over just 3x in 2015, while net gearing rose to 46% over 37% in 2015, albeit still lower than the industry's 130%.
Valuation – maintain Attractive. We maintain our Attractive rating for OOIL as we believe a positive development in liner revenues is just around the corner. Our fair value of HKD 50 is 20% higher than the current trading price of HKD 41.5 (as on 28 April 2017). The company has been one of our preferred players in the container shipping sector and can still deliver better earnings than its peers, supported by its effective management. The company scores a green light both on Drewry's bespoke value and risk ranking, indicating Attractive valuation and low risk.
Source: Drewry Financial Research Services