Dubai Maritime City Authority (DMCA) officials recently met with officials of GAC Group, the leading maritime company, to discuss current and future aspects of maritime freight and logistics services in light of the successive achievements of Dubai which ranked in the top 10 Maritime Capitals for 2017.
The move is in line with the DMCA's commitment to establishing direct communication channels with leaders of the global maritime industry with a presence in Dubai, and forms part of its continuous efforts to drive the growth of the local maritime cluster, particularly maritime freight which accounts for the highest share of the maritime industry in Dubai's GDP with AED 18 billion.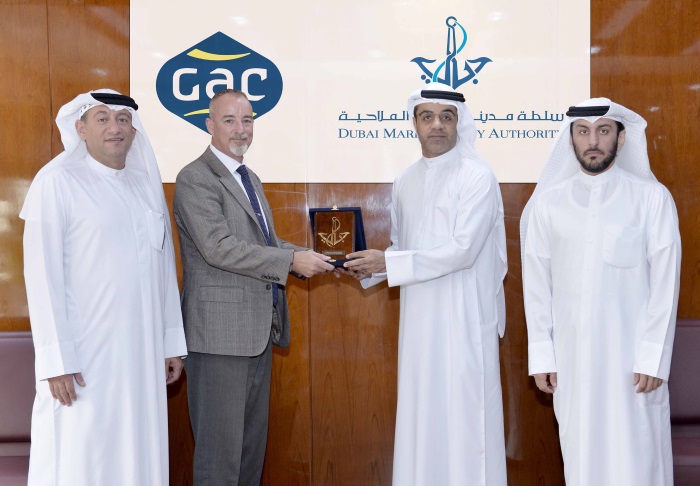 Amer Ali, Executive Director of DMCA, and his team receiving Mr. Simon Duran, the Director General of "GAC EnvironHull Limited" at the DMCA HQ in Dubai.
The session is the latest in a series of strategic meetings held by the DMCA to promote constructive dialogue with its strategic partners in the private sector. Such gatherings aim to determine the needs and aspirations of maritime community leaders; identify comprehensive frameworks for addressing emerging challenges; and reap the benefits of growth prospects from investments in the local maritime cluster. DMCA officials also showcased the successive achievements of Dubai in its quest to become one of the leading and most competitive, distinguished and comprehensive maritime and commercial hubs globally in line with the Dubai Maritime Sector Strategy (MSS). The strategy aims to develop, regulate and promote the competitive pillars of the local maritime industry to keep abreast with developments at the regional and international levels and ultimately position Dubai as a sustainable, integrated, and leading global maritime hub.
Amer Ali, the DMCA's Executive Director, revealed that the meeting with GAC's officials provided a perfect platform for exploring the best possible opportunities to enhance constructive cooperation and open new channels for employing the competitive pillars of one of the most comprehensive and distinguished maritime clusters in the world. He also emphasized the importance of establishing robust relations with stakeholders of the maritime sector from both the public and private sectors, referring to them as being long-standing partners in the journey led by Dubai in its efforts to become one of the world's leading maritime destinations.
Ali said: "Dubai is positioned among the most prominent maritime and logistics centers in the world in terms of maritime freight and logistics services. This is due to the emirate's well-established legal and legislative structure as well as its favorable environment for doing business and making investments. We are committed to further developing infrastructure, legislative frameworks and logistics support in line with international standards on maritime operational efficiency, safety, and navigational security. We support the aspiration of regional and international investors to building a strong presence within the local maritime cluster which acts as one of the main arteries of the national economy and a major driver of the UAE's economic diversification."
Source: Dubai Maritime City Authority (DMCA)