The Danish Maritime Authority launches an innovative pilot project to examine the value of blockchain technology.
When they want to register ships today, shipowners are still required to fill in and handle documents manually. In order to promote digitalisation in Blue Denmark, the Danish Maritime Authority has launched a pilot project to shed light on the long-term possibilities of digitalising the entire ship registration process.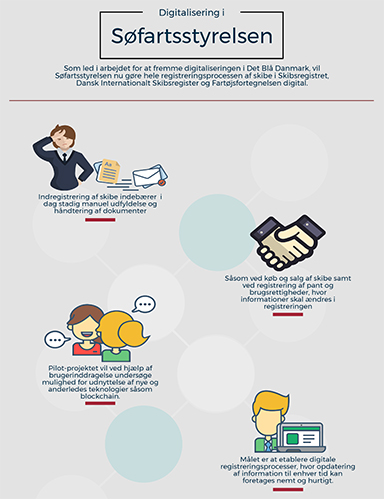 Minister for Industry, Business and Financial Affairs Brian Mikkelsen:
"The Maritime Strategy Team has recommended full digitalisation of, inter alia, the Register of Shipping. By means of an entirely new technology such as blockchain, this pilot project may pave the way for a more open, secure and efficient registration of ships on the Danish registers. This is important in an industry with a distinct focus on keeping costs low and where trust in all the parties involved is a necessity.

In order for us to retain our maritime position of strength, Blue Denmark must seize and develop the potentials of digitalisation. Therefore, we must be frontrunners when it comes to using new technological solutions. Both in the Danish Maritime Authority and in entire Blue Denmark."
The users will be involved in the pilot project, which is to clarify whether blockchain technology could support the Danish Maritime Authority's digitalisation efforts positively and help bring about an open, secure and more efficient approach to the date recorded in the registers of shipping.
Blockchain technology
The philosophy behind the blockchain technology is security through openness.
Everyone who is a part of the "chain" will have a full overview of the processes at any time and nobody can amend or forge documents without everyone in the "chain" being made aware of it. Therefore, documents such as mortgage deeds can be handled in a safe and secure manner no matter whether you are in, for example, Copenhagen or Singapore.
Source: Danish Maritime Authority