Yet another time in recent months, oil tankers are being used for oil storage. In its latest weekly report, shipbroker Charles R. Weber noted that "floating storage appears to be rising as the number of VLCCs laden and idle for longer than two weeks has risen by 30% over the past month. Some 26 units appear to be so‐employed based on AIS data and proprietary intel – and the tally is poised to rise imminently as some cargo owners struggle to find onward buyers while others are taking advantage of spot crude price discounts to make contango plays profitable. In addition to vessels already observably storing, five units were reportedly fixed this week for short‐term time charters with storage intentions – and we understand that units in charterers' internal programs or on spot voyages are likely to join the tally through exercised storage options".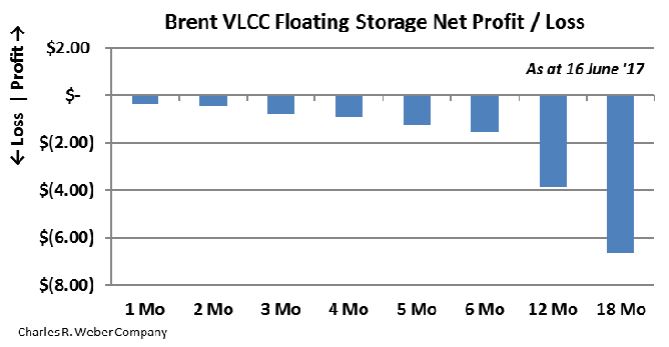 According to CR Weber, "recent crude price weakness has widened the contango structure in crude futures markets. However, the economics of traditional contango plays are prohibitive once accounting for the various costs associated with floating storage – even in light of a recent drop for short‐term storage period costs to around just $16,000/day. Based on floating storage structured from the front‐month, associated losses escalate from ~$(0.35)/bbl for one month to ~$(6.64)/bbl for 18 months. Purchasing spot barrels at a discount to market – which a rebound in excess global crude supply appears to have enabled – can make floating storage plays profitable. Applying a discount of $2/bbl to the spot Brent price yields a potential profit of ~$3.15/bbl for one month; though the contango structure against escalating storage costs erode profits progressively for longer periods", the shipbroker noted.
VLCC fundamentals improving
Meanwhile, "for VLCC supply/demand dynamics, the growing list of units engaged in floating storage is helping to stem the market's oversupply situation. Just a month ago, when the May cargo program in the Middle East market concluded, there were 25 uncovered units – marking the greatest oversupply in three years. The surplus is set to narrow to 13 units at the conclusion of the June program on the back of rising floating storage and a rebound in draws on Middle East units to service cargoes emanating from West Africa", CR Weber concluded.
Over the course of the past week, the shipbroker noted that "the VLCC market observed a very small measure of rate erosion at the start of the week on the appearance of a number of previously hidden positions before steadying as an effective standoff ensued between owners and charterers, with each pointing to data points that can be interpreted as being in their respective favor. In the Middle East market, fixture activity slowed on a pause between the June and July programs; just 17 fixtures were reported, representing a five‐week low. Though charterers sought to use this lull to their benefit, demand in the West Africa market remained elevated for a fourth consecutive week, yielding nine fixtures (a w/w gain of two) which pushed the four‐week moving average up for a fifth consecutive week – to an eight‐week high – and offset the Middle East's slow pace. Elsewhere, the Caribbean market was considerably more active than it has been for some time".
It added that "on the supply side, we note that the June program is now likely to conclude with a larger surplus than previously expected as a result of the appearance of hidden positions. Whereas a week ago the end‐month surplus appeared likely to conclude with seven units (which would have been the fewest since January), the projection now stands at 13 units. With TCEs hovering around levels dictated by the 25 units uncovered at the conclusion of the May program, we believe that at least modest upside prospects should be evident. Adding to likely support which are likely to narrow the supply/demand positioning during the July program, demand in the West Africa market appears likely to remain elevated and maintain competition for Middle East units. Moreover, short‐term storage contracts appear to be rising, which will further reduce availability as charterers progress into the July program. Moreover, the number of units two‐weeks or longer for storage contracts has risen by 6 units over the past month – and this number is poised to rise further as five short‐term storage fixtures were reported this week while other charterers are reportedly exercising storage options in existing spot and period charters", the shipbroker said.
Source: Nikos Roussanoglou, Hellenic Shipping News Worldwide