With state nationalism entrenched since 1938, Mexico changed its Constitution and de-regulated the energy sector in 2013. Mexico has subsequently installed perhaps the most comprehensive and complex energy rule changes in any nation, at any time: lifting strict state control over the oil/gas and electricity sectors, hoping for much more foreign investment.
This is no small challenge for a nation that has huge opportunities (explained here for oil), but also has a decades-long history of monopoly control and still ranks unacceptably bad in corruption. Mexico has the most free-trade agreements in the world, partnered with 44 countries. Forbes has ranked Mexico above all the BRIC nations for "best countries for business."
Progress has been understandably slow given the sunken oil price environment, but Mexico has the best energy future of any Latin American nation (at worst tied with Brazil). Mexico's economy will be growing at a 3-6% annual clip in the coming decades, with real GDP projected to soar from $1.3 trillion to $1.9 trillion from 2016-2030.
Energy demand wise, on a percentage increase basis, Mexico has the largest incremental needs of any of its other OECD partners ("the developed nations"). Make no mistake about it though, although a member of the OECD, Mexico is STILL a developing nation. GDP per capita levels are just a third of the OECD average, and around half of the country is poor.
Let me focus on oil, easily the most important sectorial decline that necessitated the reforms of 2013.
PEMEX is the national oil company (now termed a "state productive enterprise") with a 75-year long monopoly over the oil and gas industry. Although change won't be easy, the good news is that the Mexican government has lowered its over-reliance on PEMEX, with the company now accounting for 20% of the federal budget, down from 40% a few years ago.
Thus, this new found ability of PEMEX to significantly re-invest in new petroleum development is absolutely essential: Mexico has seen a drastic oil decline since 2004, when the giant Cantarell peaked, once the 2nd largest oil field in the world and conveniently located in the shallow, calm, and easy-to-produce from waters in the Gulf of Mexico.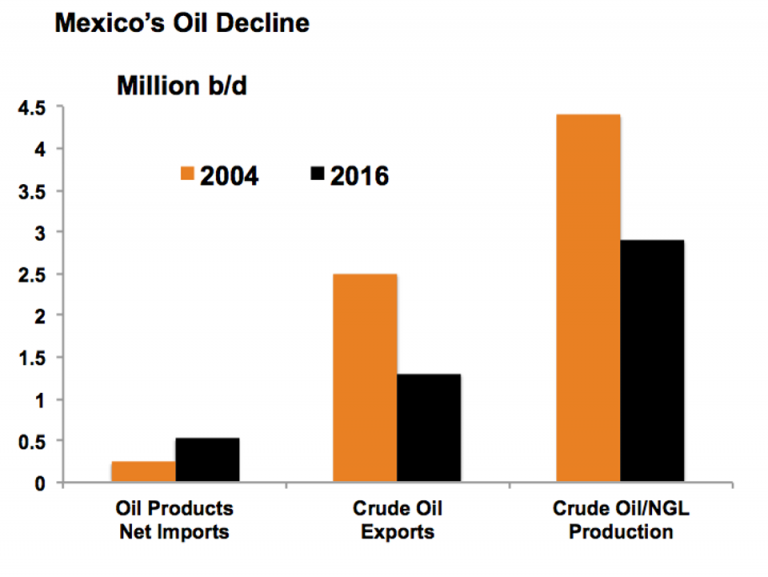 Mexico's oil decline is what necessitated historic reform measures: producing less, exporting less, importing more.
The hope is that opening up the oil sector to more foreign investment and expertise (in shale and deepwater oil in particular) will allow Mexico to regain its position as one of the top crude producers in the world. I'm convinced this can happen.
To be sure though, Mexico's has problems, a lack of security, field mismanagement, corruption, water shortages for shale, infrastructure dearths, and pipeline bunkering (theft) just to name a few, but the opportunities are massive. Domestic demand potential is particularly strong: although having reduced the over-reliance on fuel oil in the power sector, with natural gas displacing petroleum, oil is still 50% of Mexico's total energy usage, which is nearly double the OECD average. Some believe Mexico's oil production could essentially double to 5 million b/d by 2030.
Just as importantly, midstream companies are now specifically targeting Mexico, given supportive federal and local governments and far less environmental pushback, as compared to the U.S. and Canada. Pipeline construction in Mexico is booming.
The oil potential is immense. The mighty Eagle Ford shale play in south Texas runs into Mexico, and there are shale oil (and gas) opportunities in the nation that will only get better as prices rise – and eventually they must. Development costs in Mexico's oil business average around $23 per barrel, and nearly 60% of Mexico's output comes from areas that cost around $10-$20 per barrel to develop.
Since 2016, companies other than Pemex are allowed to sell gasoline, and BP alone plans 1,500 planned branded gas stations in Mexico during the next five years. And latent demand is great: Mexico has just 30o cars for every 1,000 people, about half of the OECD average.
Mexico needs refinery help. PEMEX refineries typically operate at 66% of capacity. Last year, Mexico's refined product production was its lowest point since Pemex started tracking the data in 1995, despite the fact that domestic sales continue to set record highs.
Mexico's refinery issues are made obvious by the fact that Mexico has been forced to export its own crude to the U.S. Gulf Area, have it refined, and then import it again as gasoline. Mexico produces plenty of oil to meet its own needs, but still illogically accounts for 60% of all U.S. gasoline exports. The U.S. has 2.5 times more people than Mexico, but it has 25 times more refineries.
As for the critical upstream oil sector, today's lower prices can hurt interest, but there's notable progress:
Indeed, Mexico has a shallow water auction this month and two offshore auctions in July: "Mexico's 2nd hydrocarbon auction marked by several joint bids, results due Jun 19." Tomorrow's auction "is the fifth since the energy reform, including one deep-water and two previous shallow-water tenders, yielding 39 contracts signed with forecast investment over the life of the contracts at $48.8 billion" .
And looking forward, Mexico's National Hydrocarbons Commission will organize two annual oil auctions beginning in 2018. As for a timeline, the winners of the December 2016 auction have until September to submit their exploration plans, and the government will have four months then to review them.
Mexico's first deepwater well probably won't be drilled until late-2018, but leadership knows that the country must take full advantage of its huge untapped deepwater potential. While U.S. federal waters host 2,350 platforms, only 50 wells have been drilled in Mexico's waters.
Let me be clear though, there is an emerging political issue in Mexico that ALL parties should be following closely. Presidents in Mexico get only one 6-year term, so July 2018 will surely bring a new leader. The current poll leader to be Mexico's next President is Andrés Manuel López Obrador, a long-time nationalist that has vowed to return the energy sector back to the old days of monopolism ("the Mexican people own the hydrocarbons"). But, I'm hearing he won't have the votes to entirely do that. Stay tuned.
Source: Forbes