Following the ratification of the Ballast Water Management Convention in September 2016, Seagull Maritime has worked towards releasing a revised onboard course, as well as a completely redesigned e-learning module. Using the latest technologies and a combination of different media, these ensure your crew are fully prepared for compliance with the requirements.
In the example of a Ballast Water Management Plan issued by Lloyd's Register, it states that "A suitable staff training scheme will need to be developed and included in the Ballast Water Management Plan. Staff will need to be trained in their obligations under the BWM Convention, the ballast operations on board the ship, the operation and maintenance of the ballast water treatment system, and any safety risks and mitigation measures associated with the ballasting operations or treatment system". Seagull Maritime's onboard course and e-learning module will assist the ship-owners and operators in creating a suitable staff training scheme as required by the BWM Plan.
The objective of Seagull Maritime's onboard course is to familiarize the crew with the International Convention for the Control and Management of Ships' Ballast Water and Sediments (the Ballast Water Management Convention), so that they fully –understand their obligations and can actively comply with the training requirements in the convention. The Ballast Water Management onboard course will take participating seafarers through those requirements and provide them with the knowledge necessary for effective implementation of the Convention. Training crew members engaged in ballast water treatment and exchange will enable them to meet the ultimate goal of eliminating the risks to the environment, human health, property and resources arising from ships'ballast water and sediments.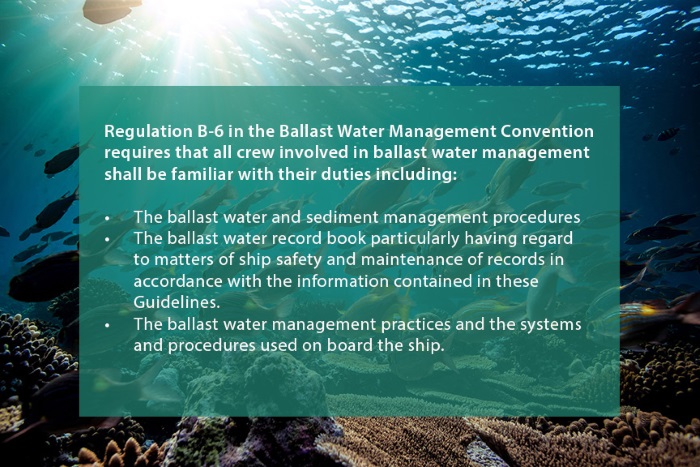 Source: Seagull Maritime