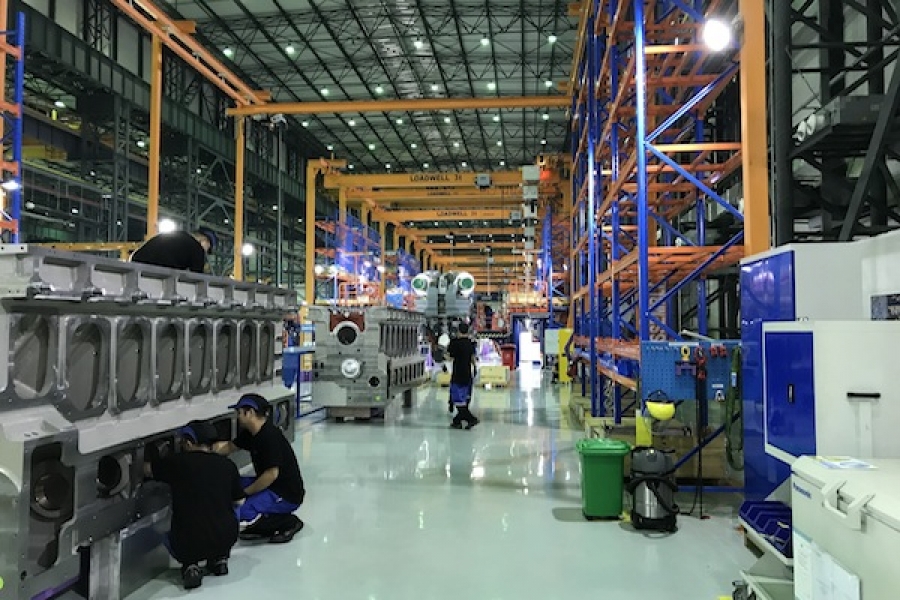 Engine maker CSSC Wartsila Engine (CWEC), a joint venture between Wartsila and China State Shipbuilding (CSSC), is keeping an eye on opportunities in specialised vessels, in view of the prolonged slowdown of the conventional vessels market.
Hannu Mantymaa, managing director of CWEC, told reporters in Shanghai last week that CWEC has ongoing discussions with potential clients on more engine order deals for vessels such as LNG carriers, FSRUs, ro-ro vessels, chemical tankers, large containerships and cruise ships.
CSSC and Wartsila signed the joint venture agreement to form CWEC in July 2014 and the first batch of order came between October 2015 to September 2016 to supply engines to containerships of 2,000 teu, 13,500 teu and 21,000 teu, and an arctic tanker.
The CWEC facility started production in December 2016 and has since also clinched orders for chemical tankers and methanol tankers for delivery in 2018, and signed letters of intent for cement carriers and LNG bunkering vessels for delivery in 2018.
The CWEC's 70,000-sqm facility in Lingang, Shanghai boasts production capacity of 180 engine units a year. The engine portfolio includes the Wartsila 34DF, Wartsila 46DF, Wartsila 26V, Wartsila 32 and Auxpac 32, and Wartsila 46F, all of which are IMO T3 compliant.
The engines are medium and large bore medium speed diesel and dual-fuel engines, all of which are four-stroke engines offering multi-fuel operation and low fuel consumption features.
Roger Holm, president of Wartsila Marine Solutions and executive vice president of Wartsila Corporation, weighed in on the need for both Chinese shipbuilders and engine makers to move into the specialised vessels segment in view of the overall sluggish conventional shipping market.
"We are not in the best times at the moment in terms of marine contracting which has significantly slowed down," Holm said. There have been a slowing down of newbuilding orders in the conventional shipping segments of containers and bulkers, while the OSV segment is challenged by "huge oversupply", Holm observed.
Source: Lee Hong Liang, Seatrade Maritime