Reliance Defence and Engineering (RDEL) has contracted ACO Marine to supply a comprehensive wastewater management package for installation to a new coastguard training vessel building for the Indian Coast Guard.
RDEL, which in January 2016 acquired Pipavav Defence & Offshore Engineering to become India's largest private sector engineering and shipbuilding group, awarded ACO Marine the contract through its Indian distributor, Vanson Engineering.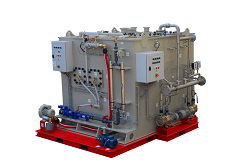 Vanson Engineering will supply the Indian Coast Guard with its first biological wastewater management system in the form of two ACO Marine Clarimar MF-4 units
Vanson Engineering will supply, install and commission two ACO Clarimar MF-4 biological treatment units and ACO PV 225 vacuum stations, after which system training will be given to ICG crews.This is the first time Indian Coast Guard is using ACO Sewage Treatment plant. Until now, ICG typically operated conventional chemical-based technologies.
"We are delighted to be involved in this prestigious newbuild project. The new order is an important reference for ACO Marine equipment in India's naval sector," said Soneji.
ACO Marine Managing Director Mark Beavis added: "The Indian Coast Guard's new training vessel is an important addition to its fleet and, indeed, our reference list. With a complement of 242 personnel, the 35000t displ vessel is designed to provide basic sea training to all Coast Guard crews.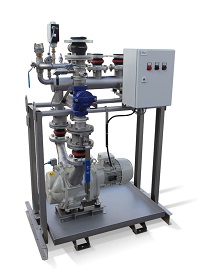 ACO PV 225 vacuum stations will also be supplied to the new ICG training vessel
Fully type-approved to meet MEPC 227(64) and EC MED module B, the ACO Clarimar MF is a plug and play system manufactured using ACO Composite PPFR GREY, a durable polymer material. It combines ACO Marine's extensively researched and developed ACO-MF filtration technology with the company's new patented ACO 'bio-sword', a self-cleaning filtration element that effectively treats a ship's wastewater to well below the mandatory levels."We are delighted that the Clarimar system has been selected. Not only will it provide an effective sanitation solution for those onboard but it will also provide the basis for enhanced training on biological wastewater management for Coast Guard engineering teams."
Tests have confirmed that the Clarimar MF can reduce Coliform Bacteria to 25/100ml, TSS to <14mg/l, BOD to <3mg/l, and COD to <25mg/l, with capacity to treat up to 37 800 litres of ship generated wastewater per day.
Source: ACO Marine