One of these companies agreed to buy $13.3 billion worth of oil-sands assets in March, and one agreed to sell: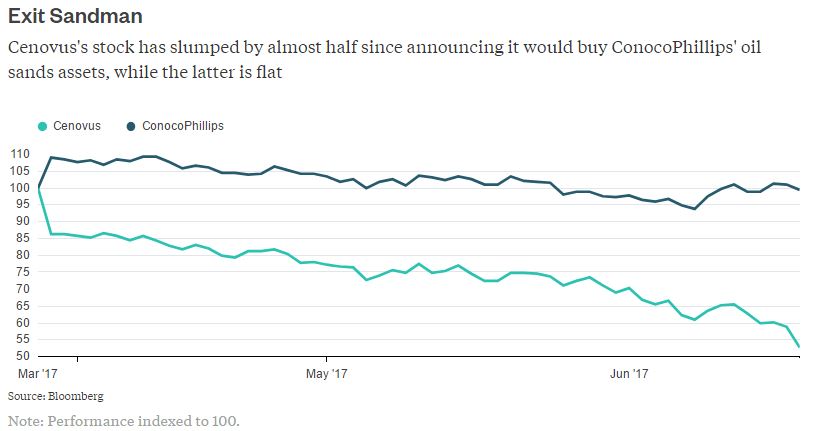 I wrote back then that, with this deal, Cenovus Energy Inc. was going all in: on its balance sheet, on Canadian infrastructure proposals and, most of all, on a recovery in oil prices. Since then, Brent crude oil has dropped by 14 percent as faith in the efficacy of OPEC's production cuts has dwindled. More importantly, the futures curve has fallen back into a steep upward slope — called a "contango" — indicating a marked loosening in supply and demand:
Less than three months after he hailed this "transformational acquisition," Cenovus CEO Brian Ferguson announced on Tuesday he would be retiring in October. Meanwhile, Cenovus announced a new strategic plan involving more asset sales and deeper cost cuts. These are the right moves; cutting debt as quickly as possible is paramount. Still, there's no denying Cenovus has pivoted from transformation to damage control.
In contrast, Conoco's transformation continues on a pretty steady path. Rather than counting on a rebound in oil prices — the old industry playbook — Conoco is focused on funding itself and paying dividends in a market that just trundles along at current levels.
It hasn't been an entirely smooth path, with last year's dividend cut providing a painful reality check. But it is clear which of these two companies looks better prepared for the oil market as it is, not as they would prefer it to be.
Source: Bloomberg