According to the latest iShip Index[1] published by the Irish Maritime Development Office (IMDO), shipping and port activity in the Republic of Ireland rose by 7% in the first quarter of 2017 when compared to the corresponding period of 2016.
The latest analysis indicates that all five of the principal freight segments saw volume increases in the first quarter of 2017. Unitised traffic – which consists of Roll-on/Roll-off (Ro/Ro) and Lift-on/Lift-off (Lo/Lo) traffic – continued to rise, growing by 5% when compared to Q1 2016.
The majority of Ro/Ro traffic moves between Ireland and Great Britain, meaning this freight segment is a simple but reliable indicator as to the level of trade between both economies. The Ro/Ro freight sector for the Republic of Ireland saw volume growth of 7% in the first quarter of 2017.This is the fifth consecutive Q1 increase in this freight category.
As for Lo/Lo (containership) traffic, Lo/Lo exports in the Republic of Ireland (ROI) rose by 6% compared to Q1 2016, while Lo/Lo imports remained relatively unchanged – rising by 0.5%. Overall, Lo/Lo traffic in ROI increased by 3% to 174,248 TEU.
When reviewing unitised traffic it should be noted that both Lo/Lo and Ro/Ro freight segments move in an all-island setting. Therefore, when Northern Irish (NI) ports are included, all-island Ro/Ro volumes grew by 6% in Q1 2017. All-island Lo/Lo traffic grew by 0.7%, with all-island imports and exports rising by 0.4% and 1% respectively, compared to Q1 2016. NI Ro/Ro volumes grew by 5%, while NI Lo/Lo traffic contracted by 6%. This was driven primarily by an 11% drop in NI Lo/Lo exports.
The Bulk traffic segment saw tonnage volumes grow by 8% (excluding transhipments) in the Republic of Ireland when compared to the same period last year. This was driven primarily by an11% increase in Dry Bulk tonnage, as well as 10% growth in Break Bulk volumes. This is the largest level of Dry Bulk volume recorded since the iShip index began in 2007. The relatively large expansion in Dry Bulk reflects the fact that a high degree of volume fluctuation exists in this market when viewed on a quarterly basis. As for Break Bulk volumes, this is the largest quarter on quarter increase in this segment since Q2 2015.
Summary of Shipping Volumes for Republic of Ireland: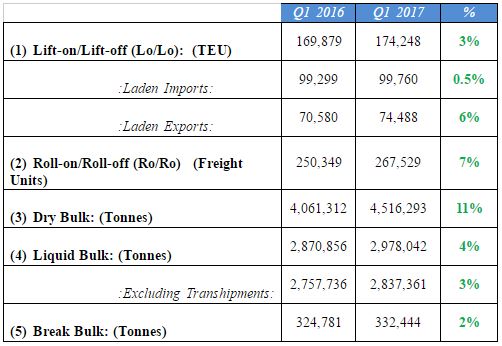 [1]Note: *The iShip index is a volume index for all freight traffic moving to and from the Republic of Ireland. This does not include passengers or transshipment activity.
Note: All percentage figures refer to quarter on quarter changes. i.e. Q1 2017 v Q1 2016
Source: Irish Maritime Development Office (IMDO)