Wisdom Marine Group ,one of the nation's largest dry bulk shipping companies by fleet size, yesterday gave an upbeat outlook on earnings in the second half of the year on expected gains from contract renewals.
The company expects to see its contract prices with charter firms rise markedly as a round of renewals begins, Wisdom Marine chairman James Lan told a shareholders' meeting in Taipei.
A year ago, contract prices for the company's Panamax vessels averaged about US$6,000 per day, but that figure has increased to about US$8,800, Lan said, adding that three of the company's vessels are slated to renew contracts next month at prices ranging between US$10,500 and US$11,000 per day.
The company is to see contract renewals for 30 vessels before the end of this year, with prices for larger-capacity vessels to rise by between 50 percent and 70 percent, Lan said.
About half of the company's fleet of 130 vessels are newer ships, which are preferred by charter firms for their lower fuel and maintenance costs, he said.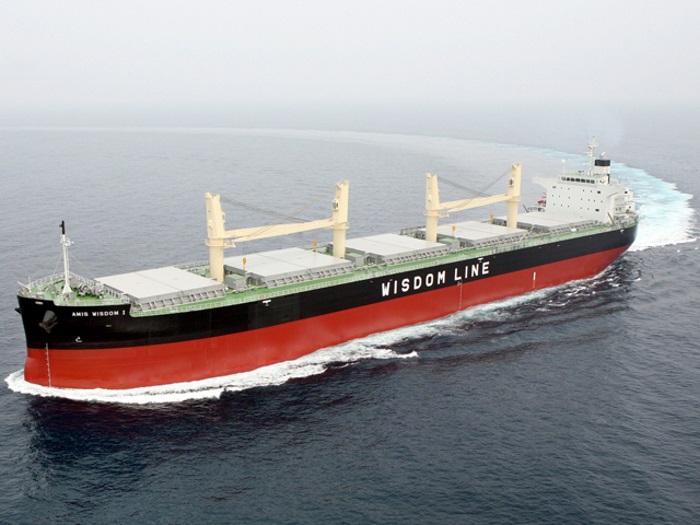 Lan attributed rising contract prices to growing demand for commodity transportation.
Chinese coal imports last month rose to a new record as lower water levels have led to significantly lower output at the nation's hydropower plants, leaving coal-fired power plants to fill the gap, Lan said.
At the same time, following the conclusion of the South American harvest season from April to last month, soybean and corn producers in the region are still scrambling to ship half of their export output, Lan said.
These producers in particular have contributed to rising demand for ocean freight, as they are urgently looking to ship their products before the arrival of the North American harvest next month and in August, Lan said.
Wisdom Marine is to expand its fleet by 12 vessels, including seven Panamax and four Supermax ships, before the end of this year, of which seven are contracted to charter firms, Lan said.
Although the company had posted a net loss of NT$107 million (US$3.52 million) in the first five months of the year, it posted a net profit of NT$9.08 million last month, Lan said.
Meanwhile, Lan said that Wisdom Marine has no immediate plans to acquire Shih Wei Navigation Co Ltd, a company led by his elder brother, J.D. Lan).
"We are awaiting a time when shareholders of both companies are feeling good about the deal," James Lan said, adding that the company has partnerships to pool resources to save on maintenance and part procurement costs.
Combined, the companies have about 200 ships, among the largest fleets in Asia, James Lan said.
Wisdom Marine shareholders approved plans to distribute a dividend of NT$1.5 per share comprised of NT$1 in cash and NT$0.5 in shares.
Source: Wisdom Marine