The present and the future of the shipbuilding industry in Greece towards LNG as fuel era, was the focus of the discussion organised by Piraeus Port Authority (PPA) within the framework of the European co-funded project Poseidon Med II. The event, which took place today at the Conference Hall of PPA, gathered representatives from Hellenic shipyards, project partners and delegates from the marine sector.
Could LNG as fuel choice contribute to the rival of the Hellenic shipbuilding sector? How the Hellenic shipyards could be "LNG ready"? What kind of support could Poseidon Med II offer? These questions were set in the microscope of the event, during of which speakers highlighted Poseidon Med II scope and activities, as well as the under development designs of vessel retrofits and new buildings within Poseidon Med II. The establishment of Revithoussa terminal as LNG hub for the regional supply chain and the Europa Ship Plan, an initiative of the Hellenic Shortsea Shipowners Association, introducing a sustainable financing strategy for the renewal of the Short Sea Shipping fleet, were also presented. Specific emphasis was given to the Poseidon Med II shipyards' assessment regarding their "readiness" for LNG as fuel era, as well as the role of the professional chambers.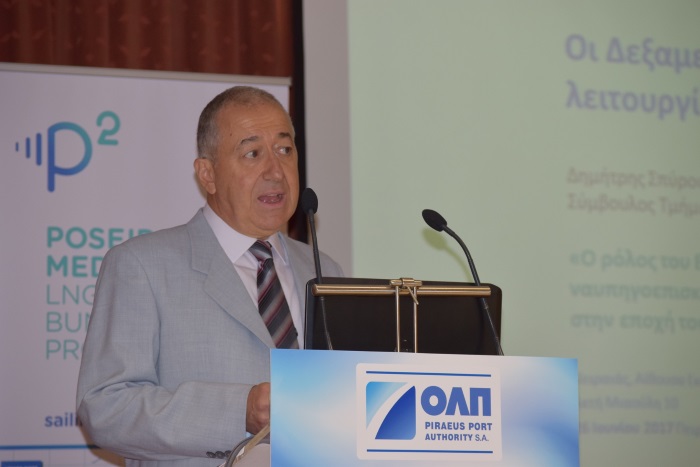 Mr Dimitrios Spyrou (Piraeus Port Authority S.A.)
At the event opening, Mr Dimitrios Spyrou, Consultant in PPA's Strategic Planning & Marketing Department noted: "the adoption of LNG as marine fuel will create fertile ground for sustainable development of the Greek shipbuilding sector and employment opportunities, which are vital for Greece. Piraeus Port Authority's new floating dock with carrying capacity 80,000 tons and the four existing extensively repaired docks will definitely contribute to this end".
Left to right: Mr Papagiannopoulos I., Mr Spyrou D., Mrs Theodoridou M., Mr Floredin I., Mrs Apostolopoulou A., Mr Mpakas I. and Mr Spyridakis D.
What is Poseidon Med II project?
Poseidon Med II project is a practical roadmap which aims to bring about the wide adoption of LNG as a safe, environmentally efficient and viable alternative fuel for shipping and help the East Mediterranean marine transportation propel towards a low-carbon future. The project, which is co-funded by the European Union, involves three countries Greece, Italy and Cyprus, six European ports (Piraeus, Patras, Lemesos, Venice, Heraklion, Igoumenitsa) as well as the Revithoussa LNG terminal. The project brings together top experts from the marine, energy and financial sectors to design an integrated LNG value chain and establish a well-functioning and sustainable LNG market.
Source: Poseidon Med II Project