Cosco Shipping Ports (CSP) increases exposure to the Mediterranean Sea with the acquisition of Noatum Port Holdings (NPH). The Chinese port operator will acquire 51% stake in the Spanish holding company for EUR 203.5m, translating to 14.5x EV/EBITDA. The westward portfolio expansion follows equity stakes in Vado Container Terminal (Italy) and Euromax Container Terminal (Netherlands) in 2016, and complements its dominant presence in East Mediterranean Sea – Piraeus (Greece), East Port Said (Egypt) and Kumport (Turkey).
Essentially, there are two container terminals of interest to the acquirer: Noatum Container Terminal Valencia (NCTV) and Noatum Container Terminal Bilbao (NCTB). While the Valencia terminal is the largest among the three terminal operators, NCTB operates as a monopoly at Bilbao. Two container rail terminals with cumulative annual profitability of less than EUR 1m are included in the valuation. Without these assets, the piecemeal price paid for container terminals is about 15x EV/EBITDA.
Can CSP change the fortune of its new target?
In the transaction circular disseminated last week, management is optimistic in reversing the net loss position of its target. First, Cosco Shipping Ports will leverage on its parent Cosco relationship with other Ocean alliance members to maximise utilisation at NCTV. With infrastructure that can handle four ULCVs simultaneously, the 3.25m teu capacity terminal should be comfortable dealing with an alliance's volume. Second, the Chinese company will partner with Turia Port Investments in developing the terminal, as the latter converts NPH's outstanding loans to 49% shareholders' equity. In the last financial year, NPH recorded a modest operating profit of EUR 2.6m, only to be weighed by EUR 17.6m of interest payment. Third, the new terminal operator will harvest the tax losses accumulated in previous years. Presently, the tax asset that could be used to offset future profitability is about EUR 8.2m, representing more than three years of normalised profits.
Profitability of the new acquisition hinges on the performance of NCTV.
With the backing of Ocean alliance and a sustained global trade expansion, NCTV's capacity utilisation rate is expected to increase in the near-term. However, it may not translate into significant profitability as low margin transhipment cargoes – approximately half of the total throughput – continue to feature prominently at Valencia port, though transhipment incidence may vary between terminals. Additional port capacity is currently planned up north of the port, which will call for tender by the end of 2018. The new project will sit behind AP Moller and Maersk-owned terminal. If successful in its bid, the spill-over 2M volumes that are currently handled by NCTV may be diverted. It is unlikely that the Port Authority of Valencia will introduce another terminal operator into the three-way competition. Meanwhile, at the country level, strikes over labour reforms will remain a persistent threat to throughput.
Acquiring a low-margin business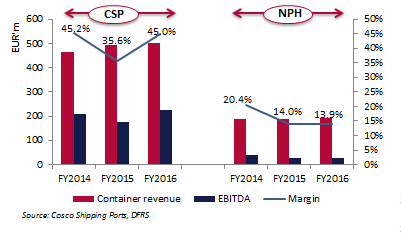 Friendly relationships with neighbours.
Each terminal operator at Valencia port has its own customer segment that does not compete directly on price. According to Drewry sources, MSC and TCV (APMM-owned) had utilisation rate above 90% in 2016. Aside from handling 2M's volumes, they have little capacity to attract new clients. Some of their parent line's volumes have to be channelled to NCTV. Competition of gateway volume is at a healthy level, as no operator is willing to undermine the harmonious relationships for incremental gateway volume. Competition for transhipment cargoes is more intense, as Valencia port pits against Barcelona, Algeciras and Tanger Med, for examples.
Healthy competition at Valencia port
Selective value purchase or aggressive growth ambition?
Relative to CSP's recent terminal acquisitions in the past two years, NPH appears a bargain at 14.5x EV/EBITDA. The largest port operator in China has an IRR target of about 10% for NPH, contingent on a 12-year concession renewal for NCTV beyond 2031. CSP will consolidate NPH's operations as it holds 51% stake. The remaining 49% stake in NPH will be held by Turia, which has converted outstanding loans to equity. While we are confident NPH will be profitable under the stewardship of CSP that has the backing of the world's fourth largest shipping line, a probable write-down looms when the Spanish assets are tested for impairment. The target company carries EUR 31.5m of goodwill at a discount rate of 7.9%. As the cost of equity is more expensive than debt, the change in capital structure will push WACC higher to the detriment of goodwill. Nevertheless, the charge will be non-cash in nature which should not detract our DCF-valuation of the company. Just a little over a year ago, CSP paid EUR 125.4m for an equity stake in Euromax Container Terminal at a hefty earnings multiple for a profitable company. We believe the lower IRR for NPH is indicative of management's aggressive pursuit in Europe, especially with the latest Mediterranean terminal that has significant exposure to footloose cargoes.
Comparison between recent purchases
Source: Drewry Financial Research Services Ltd.