The Dubai Maritime City Authority (DMCA), the government entity responsible for organizing, developing and managing various aspects of the marine sector in Dubai, has launched a social initiative to raise awareness of maritime safety standards and introduce best practices to safely use marine vessels and jet skis. The DMCA's Department of Registration and Commercial Licensing is in charge of the campaign whose safety procedures include wearing life jackets and dealing with emergencies.
Amer Ali, Executive Director of DMCA, said: "The role of the Authority is to promote public awareness of maritime safety by launching relevant campaigns, participating in maritime industry events, and enhancing cooperation and coordination with various stakeholders in the maritime sector in the emirate. The Authority is also committed to working on a wider scale to introduce safety measures, most notably wearing life jackets and protective helmets and heeding the warning signs at sea."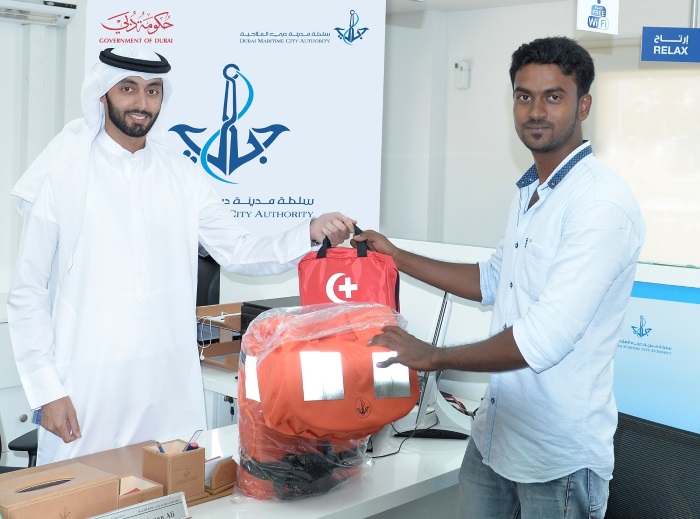 Handing over the first-aid-kit to one of the customers
The initiative is in line with DMCA's continuous efforts highlighting the importance of safety equipment; following maritime rules and regulations concerning maneuvering and traffic, landing points, and areas for activities; and taking precautions to avoid accidents.
Ali Al Dabbous, Executive Director of Operations, DMCA, said: "The latest initiative comes in line with our strategic maritime objectives aimed at enhancing Dubai's maritime competitiveness, as well as promoting maritime safety integration, safe navigation and operational efficiency in Dubai waters and coasts. We call on all maritime operators to adhere to best practices, safe navigation and emergency procedures, and proper usage of safety equipment."
The DMCA is also planning to distribute first-aid kits and leaflets promoting safety and conduct presentations regarding maritime safety practices and marine equipment utilization. This is part of its continuous efforts to update its guidelines to ensure maritime safety as well as introduce various safety applications and techniques while using maritime vehicles to spread the culture of safety and security and create a vibrant and secure maritime sector in Dubai.
Source: DMCA (Dubai Maritime City Authority)