Drewry Maritime Research has raised the 2017 global throughput forecast. In particular, US and Europe containerised volumes are expected to accelerate 3.0% and 3.9% this year; a marked improvement from last year's forward projection of 2.0% and 1.6% respectively. As HPHT has significant trade exposure to the US and Europe, we believe the market is pricing in a strong 2Q17 report card which will be revealed on 19 July 2017.
Volume-driven play. While buoyant macro data in the US and Eurozone lifted the share price off 52-week lows, HPHT's valuation rally in June was underpinned by the one-off rejigging of shipping line alliance members. Reshuffling of alliance members gives rise to a phenomenon known as operational phasing. The new alliances, Ocean and The Alliance, have made calls at HPHT's terminals in Hong Kong since 1 April 2017 to unload containers from smaller vessels (phasing out), before loading them onto larger vessels (phasing in). This has, in part, contributed positively to Hong Kong throughput numbers.
HPHT needs to be patient. At the group level, HPHT will count throughput handled at new acquisition Huizhou International Container Terminal (HICT), though the approximately 20k teu/month throughput does not amount to much in comparison with Yantian and Hong Kong. HPHT aims to move intra-Asia export cargoes to HICT, freeing capacity for Yantian to focus on higher-yielding Asia-Europe and Asia-US trades. Hence, HPHT needs to be patient as management projects it to turn cash flow positive in 2020.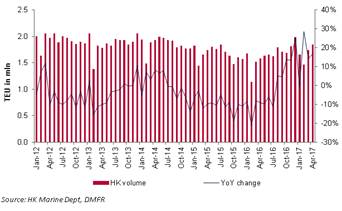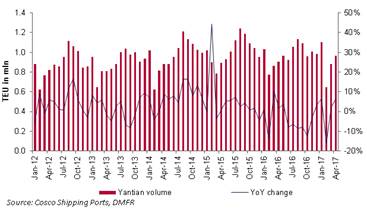 Would throughput growth translate into earnings? We believe the three factors below may drive FY17e earnings growth.
Increased utilisation. Drewry expects the positive momentum in container volume growth to continue into the second half. Economies of scale from higher utilisation point towards stronger earnings in 2Q17e when compared against 2Q16.
Cost rationalisation. Operational consolidation between HPHT subsidiary and JV terminals with Cosco Shipping Ports under a single management for their Hong Kong terminals will likely enhance
profitability. To this effect, we project an increase in the EBITDA margin in FY16.
Reining in interest expense. HPHT has successfully refinanced about USD 500m of borrowings in June 2017. To mitigate rising interest rate on bank loans, the largest terminal operator in Hong Kong is considering a bond offering as one of the alternatives. On commitments to pare debt and to fix interest expense, we believe the equity market will respond positively. Higher earnings could buttress future dividends, which have been a pillar for unitholders, whilst the unit price has more than halved since listing in 2011.
Valuation turning point in sight? Since the IPO (listing price: USD 1.01), management has fallen short of expectations. We believe HPHT is fairly valued at USD 0.44 (WACC: 8.6%), translating to 22.8x FY17e earnings. Although the Singapore-listed Trust trades at a slight premium to our proprietary Drewry Port Index (at 20.9x PE), it is supported by an attractive dividend yield and backed by a potential windfall gain in land sale. With the upcoming report card, we will be keen to look at cash margins and interest burden that directly impact semi-annual distributions. Until then, we are not convinced about upgrading the stock purely on throughput expansion.
Source: Drewry Maritime Financial Research