It was inevitable that at some point during the summer, the newbuilding activity would quiet down. This has now been the case over the past week, as more and more owners have their sights set for the end of August, when it comes to moving forward with their investment plans.
In its latest weekly report, shipbroker Allied Shipbroking said that "things have significantly quietened down now, with most shipbuilders having eased back from there previous marketing push, due to the summer break noted in the western hemisphere. It is unlikely that we will see a strong volume of deals coming to light over the next two-three weeks, with most owners likely to push back their decision to the start of the Autumn season. A major role has been played by the increased uncertainty being noted in the freight markets for most of the major market sectors. Most owners will likely hope to see a more clear forward freight market direction come September and look to base their decision then rather then push for some quick movement now. Overall it still seems as thing will continue to move at a fairly slow pace in terms of new ordering for the remainder of 2017".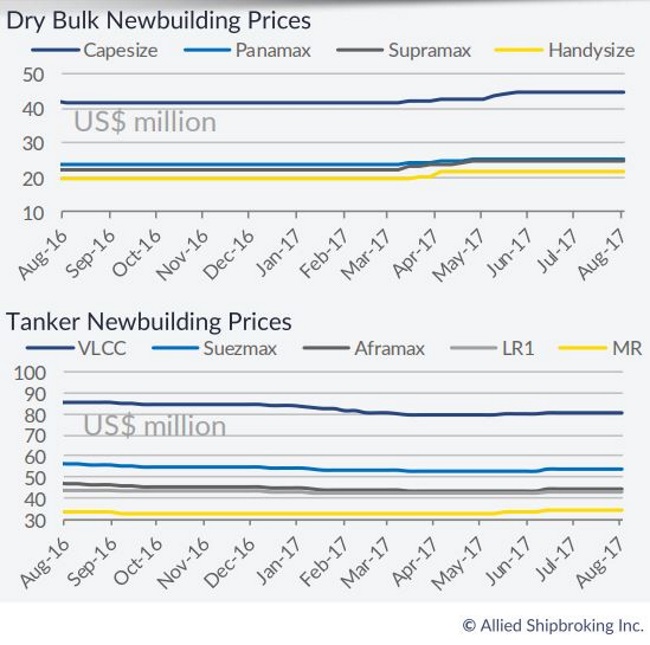 In a separate report, shipbroker Intermodal said that "August debuted with healthy activity in the newbuilding market being sustained. Last week's order do indeed prove that ordering appetite seems to be ignoring completely the fact that this has been a quiet period in terms of contracting especially during the past years. Indicative of the strong momentum the market has been witnessing is the comparison of last week to the first week of August last year when only one offshore order was reported amidst a very quiet market indeed. Although some of the orders coming to light in the past days concern slightly older deals, the matter of the fact remains that ordering interest is still very much vivid across all of the dry bulk, tanker and container sectors, while we still see that Greek owners are behind a good part of the most recent deals and do not seem at all discouraged by the fact that prices have been inching up lately. In terms of recently reported deals, an Italian owner placed an order for two firm MR tankers (45,000 dwt) at GSI, in China for a price in the region of $34.0m each and delivery set in 2019", Intermodal said.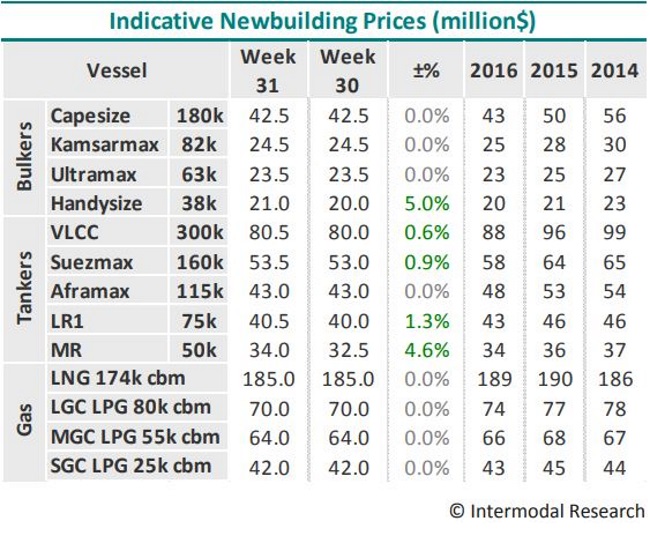 Meanwhile, in the S&P Market, "on the dry bulk side, activity was on the rise once again this week, possibly showing a renewed strength in the market, with buying interest once again on the rise. Prices have yet to reflect this with most sales still remaining fairly in line with similar transactions that we have been seeing. With the freight market having shown a fair amount of improvement over the past couple of days, this may well turn out to be the nudge buyers have needed in order to get another price rally going. On the tanker side, things seemed to be improved in terms of activity reported, with all size segments showing some signs of life. It seems as though the majority have been enbloc deals, while prices have started to show some slight signs of softening. There seems however to be a considerable amount of interest when compared to the overall performance being noted in the freight market", said Allied Shipbroking.