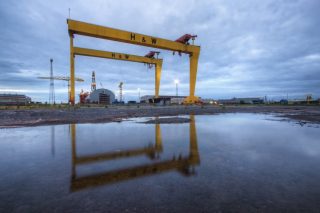 Irish shipbuilder Harland and Wolff is filing for insolvency at the High Court in Belfast, after its bankrupt Norwegian owner Dolphin Drilling failed to find a buyer for the shipyard.
The company informed that the insolvency request would be completed on August 6, adding that accountancy firm BDO had been appointed as administrators.
The procedure will put 120 workers at risk of losing their jobs and could mean the end of the shipyard that is best known as the builder of the Titanic.
Harland and Wolff opened in 1861 and employed as many as 30,000 people during World War II. It has built countless merchant and military ships. The shipyard built its last ship in 2003.
General trade union GMB has organized a petition, calling for the shipyard to be nationalized in order to save local manufacturing jobs.
"The future of Harland and Wolff is more than a commercial issue that the government can stand by and do nothing about," the union said.
"Nationalization will keep this yard open in order to protect this vital industry, the jobs that make it and the communities that rely on it."