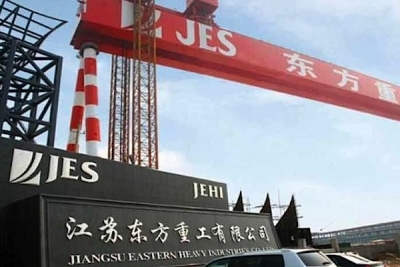 A proposed voluntary restructuring of China's Jiangsu Eastern Heavy Industries (JEHI) made by its parent firm has been rejected by a Chinese court.
Taizhou Intermediate People's Court served a rejection notice dated 13 May to JES International Holdings, stating that JEHI has "not successfully reached the required threshold for a restructuring scheme", resulting in the rejection, JES announced on Monday.
Under the laws of China, an applicant of this nature is to provide sufficient proof that it is unable to satisfactorily pay off its debts and thereby qualify for a restructuring scheme.
"The company does not agree with the Taizhou Court's decision, and wishes to inform shareholders that it has since submitted an appeal to the Jiangsu High Court on 22 May 2015," Singapore-listed JES said. The restructuring application was filed in early-March.
JES said that its subsidiary JEHI has sustained significant financial losses due to the decline in the shipbuilding industry as well as inadequate internal management. The yard is also impaired by a severe lack of liquidity and cashflow.
The proposed restructuring is aimed at implementing a consensual restructuring between JEHI and certain of its creditors, the Chinese firm said earlier. If JEHI's restructuring application to the court is successful, no other creditors will be able to commence a winding up application against the yard, and negotiations will be carried out with the creditors
JES owns a few other smaller subsidiaries including Jiangsu Nereus Shipyard and Jiangsu New Eastern Marine Engineering Equipment. The latter is one of the 'white list' shipyards in China, poised to benefit from priority access to loan facilities from Chinese banks.
Meanwhile, JES announced that its former ceo and present executive director Jin Xin has resigned due to health issues. Before Jin's resignation, he was primarily focused on the restructuring of the group's affected subsidiaries in China.
Jin is the father of the incumbent ceo Jin Yu, who was appointed in March this year.