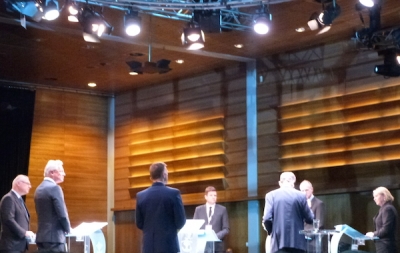 The shipping industry requires governments to invest in expertise and change regulations, rather than provide financial incentives to shipping, in order to innovate and improve environmentally-friendly operation, leading officials said on Tuesday.
Citing the land-based transportation the US is forced to use under the Jones Act, Thomas Rehder, managing partner Carsten Rehder and president ECSA, highlighted the massive decreases in emissions which could be achieved if this were moved to ships. "Adoption of LNG needs a kick-start to give it the critical mass to make it work," he said. "That could be something like a Norwegian NOx fund on a European level.
"You can also bring about innovation from measures which don't cost you very much – I'm thinking of the US TTIP legislation. By creating more flexibility under the Jones Act, you could reduce the environmental impact – by creating European-style feeder networks, by opening up the US offshore sector, I think we'll create a win-win situation for both the US and Europe.
"The pre-requisite for innovation is starting with basic infrastructures, and a high level of general education," said Sturla Henrikksen, head of Norwegian Shipowners' Association. "What is essential both nationally and internationally is that you have a regulatory framework which is predictable, because the life of a ship is 25-30 years.
Asked about the frustration with the IMO's ratification procedures, Monica Maeland, Minister of Trade and Industry at Norway' Ministry of Trade, Industries and Fisheriess, said: "The maritime industry is an international industry, we have to manage this in a proper manner. We need green growth, we need research and innovation.
"What is the alternative to politics?"
"The legitimacy of IMO is very important," said Sturla Henriksen, ceo of the Norwegian Shipowners Association. "The problem is the negotiation processes are tedious and long and so are the ratification processes. Ballast water is one example, recycling is another – agreed upon in 2009, still only ratified by France, the Democratic Republic of Congo and Norway. This is a challenge to IMO, and this is why they are often overtaken by regional legislation.
Yet we should not underestimate the level of frustration with the lack of global legislation – it does impede innovation."
Henriksen added "I think that the basics are the most important – and infrastructure, education, a predictable regulatory framework, that the shipping companies have a fiscal regulatory framework which is competitive, and on top of that you can add financial incentives – but you have to get the basics right."