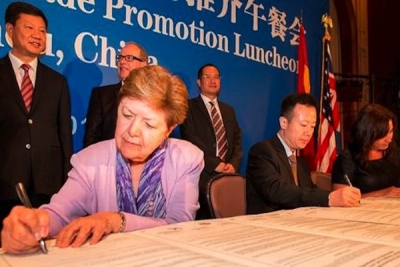 The port of Los Angeles, Auckland and Guangzhou have signed a memorandum of understanding for increased cooperation to fuel economic development and job growth.
The memorandum of understanding establishes the Tripartite Ports Alliance among the ports of the three countries – US, New Zealand and China.
"The port of Los Angeles looks forward to collaborating with the ports of Auckland and Guangzhou on a series of initiatives, including promoting commercial and business opportunities as well as sharing innovative best practices," said ambassador Vilma Martinez, Los Angeles harbor commission president.
Los Angeles, Guangzhou and Auckland are sister cities and strategic trading partners that share similar economic goals. The newly formed alliance provides a platform for growing trilateral cooperation to foster trade, innovation and investment opportunities between the public and private sectors of the three regions.
Objectives within the memorandum of understanding include sharing of best practices and expertise; strengthened communication and collaboration on investments, technologies and environmental policies; and working together to enhance capabilities of each port in order to boost their respective regional economies.