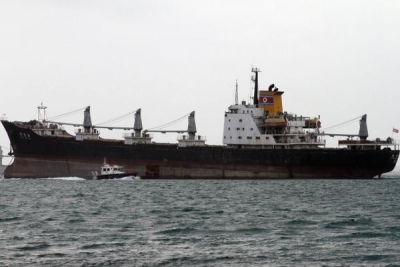 A Panamanian Tribunal sentenced to 12 years in prison two crew of a North Korean ship detained in Panama in 2013 with Cuban undeclared weapons.
Captain Ri Yong-Il and first mate Hong Yong-Hyon, were working on the North Korean-flagged Chong Chon Gang when it was stopped and searched in July 2013. Their convictions came as a surprise said their attorney Julio Berrios, since a lower court had let the men off after their North Korean cargo ship was found to be carrying Cuban weapons including surface-to-air missile systems and launchers. "Panama's Second Circuit Court first revoked that ruling and then sentenced the ship's captain and co-pilot to 12 years in prison," he said.
Captain Ri Yong-Il and first mate Hong Yong-Hyon were convicted of arms trafficking over the undeclared cache, including two Soviet-era MiG-21 aircraft, air defense systems, missiles and command and control vehicles.
The cargo on the vessel, the Chong Chon Gang, was hidden under 200,000 bags of sugar and had been destined for North Korea, in violation of strict sanctions.
"This turnabout needs no legal analysis. It stems from international pressure, and as such violates both national law and international law," Berrios said. The lawyer said the two convicted are innocent, because they did not know what the containers contained since they were tightly sealed. The defender of the two seafarers said he has sent a copy of the statement to the North Korean chief of state, Kim Jong-un, who, he said, "is aware of all this mess."
The vessel was detained by the authorities in Panama in July 2013 on suspicion of carrying drugs, but during the inspection it was found was an arsenal of weapons.
Panama asked the United Nations to send a team of experts of the Security Council came to the Central American country to inspect the weapons. The UN team said in a preliminary report, the case of the North Korean ship violated the resolutions that prevent Pyongyang import or export weapons of any kind, according to Panama on 28 August 2013.
Of the 35 crew members of the vessel, named Chong Chon Gang, 32 were released in January 2014 after the Panamanian Public Ministry declared they were unaware of the ship's cargo.
The Panama Canal Authority (ACP) released the ship in November 2013, and was fined $693,333 for the ship to introduce undeclared goods, which was paid on 8 February 2014 by the representatives of the ship.
Lawyer Berrios said that he had been asked by the North Korean regime to require Panama a refund of nearly $4m for the loss of value of the confiscated sugar, valued in 2013 at $6m.