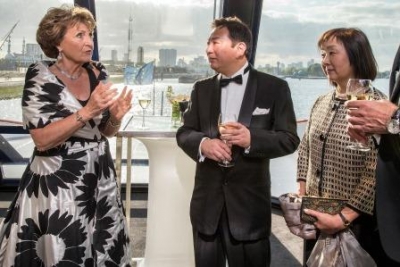 The International Chamber of Shipping (ICS) held its AGM in Rotterdam last week, discussing critical issues facing its members around the world.
The group welcomed recent efforts from the EU to add extra resources to deal with the migrant crisis in the Mediterranean, but added that search and rescue resources in the area are still "woefully insufficient".
ICS chairman, Masamichi Morooka, commented: "It is simply not acceptable that merchant ships are still being routinely called upon by Rescue Co-ordination Centres to assist with the majority of rescue operations currently taking place, having already assisted with the rescue of more than 50,000 people since the crisis started to escalate last year.
"It is unreasonable for governments to continue relying on merchant ships as a long term solution, placing civilian merchant seafarers at considerable risk. The current situation is neither sustainable nor tenable."
The Chamber also discussed the matter of international regulation on ballast water treatment, and the regional regulation being imposed by the US. Welcoming progress by the IMO at its Marine Environment Protection Committee (MEPC) earlier this year, the ICS expressed concerns that the US approval process for systems may discourage further ratification.
Morooka commented: "ICS members are committed to the implementation of a ballast water treatment regime that will be fit for purpose worldwide. Frankly speaking, the United States is creating an impossible dilemma that can only be solved by the US approving treatment systems immediately and finding a pragmatic approach to reconciling the conflicting timelines within the IMO regime and its own.
"Apart from the chaos that the United States is creating for international shipping, it is also holding back the ratification of an important IMO Convention that is intended to bring environmental benefits to the entire world, not just the needs of a single country."