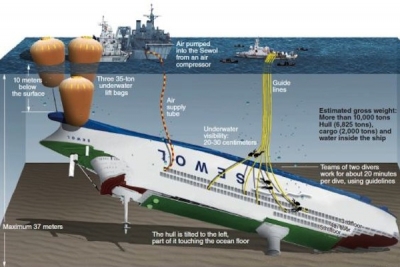 A Chinese-led consortium has emerged as the preferred bidder to undertake the difficult task of hoisting the South Korean passenger ferry Sewol, which sank last year April with the loss of more than 300 lives, most of them school children.
South Korea's ministry of oceans and fisheries said it will start negotiations next Monday with the Chinese consortium involving China's state-owned Shanghai Salvage Co and a Korean firm, which beat other bidders including European and US companies. Over 20 companies are said to have entered the bidding.
The ministry added that it would talk to a second preferred bidder – a consortium led by China's state-run China Yantai Salvage – if negotiations with Shanghai Salvage fall through.
The ministry said that Shanghai Salvage was selected due to its experience in salvaging sunken vessels. The Chinese firm offered to lift Sewol for $74m by using a frame built with metal beams on the sea floor instead of drilling holes into its side.
"We regarded Shanghai Salvage's idea as safe… because the Sewol's hull remains fragile," Yeon Yeong-jin a ministry official in charge of salvage, told reporters.
The 6,825-dwt Sewol was carrying 476 people, including 325 students, when it sank off the southwest coast. Only 75 students survived.
Lee Joon-seok, captain of Sewol, was found guilty of murder and sentenced to life imprisonment in April this year.