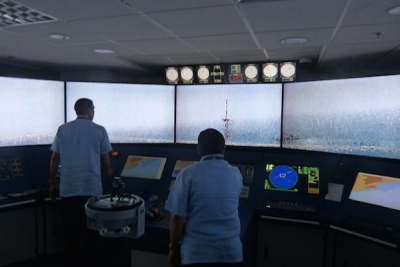 Returning to the crewing capital of the world – Manila – after a couple of years absence last week it was interesting to see just how upbeat everyone we met was, especially at time when many in the industry at large are rather downbeat.
With the Philippines supplying some 30% of the world's seafarers the country's ambitions as a major international maritime nation always made sense, but somehow transferring that vision into a reality always got bogged down in quagmire of everything from poor governance to inadequate infrastructure to ambulance chasing lawyers.
For well over a decade I visited Manila regularly and would have conversations with senior industry executives about all of the possibilities for the country, but nothing really changed except for there being more tall buildings and even longer traffic jams.
It was perhaps symbolic that arriving and leaving Manila this time we were not treated to the "delights" of Ninoy Aquino International Airport Terminal 1, which had the dubious distinction of being voted the world's worst airport multiple years running, but instead the nice, modern Terminal 3. It was to prove a sign that things were finally moving on many different fronts – the terminal was completed in 2002 – but was only fully opened in 2014.
Speaking to long-term expatriate Andrew Malpas, president of P&I Pandiman, and he stated that there had been more progress in terms shipping and maritime over the last two years than the previous ten. And it was hard to disagree with this assertion as an outside observer.
There were similarly upbeat views from leading crewing companies speaking to Marlon Rono, ceo of Magsaysay Maritime Corp and Gerardo Borromeo ceo of Philippines Transport Corp (PTC).
The investments being made in facilities such as training centres with expensive equipment simulators bear testament, as well as major back office facilities to the value international shipping companies see in being in the Philippines. Among those investing in a major way are some of the biggest names in the industry including V.Ships, Mitsui OSK Lines (MOL), Gearbulk, Döhle, Maersk Line and Thome Group.
Also the scale of the investments indicates that these companies are looking to be in the Philippines for the long haul and it's not just simply a source of cheap crew until the next alternative comes along.
The long talked about potential for technical management of ships, given a huge pool of skilled maritime professionals, is starting to become a reality.
The threatened ban of Filipino officers serving on European-flagged ships seems to have been largely, if not completely resolved. This is in part due to the maritime party in government Angkla (Anchor) which represents the industry at the highest level politically.
With preferential policies for shipbuilding, they have seen the Philippines become the world's fourth largest shipbuilder.
All of these factors combine to point in the right direction for the future of Manila as a major maritime nation, not just in crewing, but across the range of the industry. Concerns over the treatment of shipping in Greece could well prove to be a boost for the Philippines in terms of areas such as technical management.
It is not say that there are not still many hurdles to overcome. A change in political forces in the country's vibrant democracy could lead to changes in policies. Last year's truck ban in Manila which caused chaos for the capital's ports illustrate just how easily things could be blown off course by a shift in political policy.
However, hopefully a new shared vision will help to continue to develop the country's maritime industries building on the existing base as a major crewing centre.