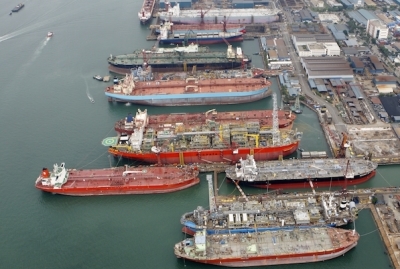 Keppel Shipyard has inked a contract to convert a Totem Ocean Trailer Express ro-ro vessel to dual fuel with LNG power.
Tacoma-based Totem Ocean said the conversion of the Midnight Sun to dual fuel would be first major conversion in the world of a large ro-ro vessel to run on LNG.
The work will start at Keppel Shipyard in December this year and is expected to take 90 days.
"Totem Ocean is excited to partner with Keppel for the conversion of the Midnight Sun, enabling her to operate on natural gas" said John Parrott, president of Totem Ocean. "The removal and replacement of the four engines, adding 2,200 cu m of LNG capacity along with the addition of 47 kilometers of new cabling is a complex undertaking."
Totem Ocean plans to convert the Midnight Sun's sister vessel North Star to dual fuel in 2016 or 2017.
Michael Chia, managing director (Marine & Technology), Keppel Offshore & Marine commented: "Leveraging our strong track record and experience in ship modification and conversion work, Keppel is well positioned to capture this growing market to meet the industry's needs for environmentally friendly solutions."