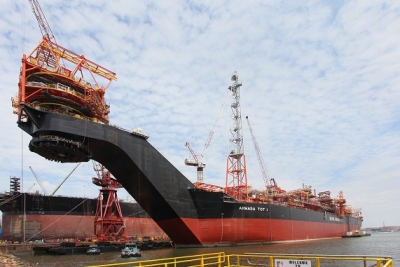 Major Malaysian offshore player Bumi Armada turned to a net loss of MYR291.5m ($69.5m) in the second quarter from a net profit of MYR98.38m previously, due to an impairment charge of MYR383.7m it took to write down the carrying value of certain vessels.
The vessels are in the transport and installation (T&I) and offshore support vessel (OSV) business units, and a non-core asset held in a joint venture in view of the weak outlook for the oil and gas sector, it said in a stock market announcement.
Bumi Armada noted that without the charge, it would have recorded an adjusted net profit of MYR84.8m.
Revenue also fell 22% to MYR459.1m from MYR590.1m previously due to lower utilisation of the vessels under the OSV and T&I business units.
The weak performance extended into the first half with Bumi Armada posting a net loss of MYR219.5m from a net profit of MYR163.2m previously while revenue fell 2.6% to MYR1.03bn from MYR1.06bn in the first half a year earlier.
Floating production storage and offloading (FPSO) and floating gas solutions (FGS) revenue was also lower as Rainbow 1 was sent to the shipyard for the Madura FPSO project during the quarter.
"The group continues to generate positive net operating cashflows and core profit, driven by our FPSO business. The projects under conversion remain on track and we expect the group to continue to generate positive operating cashflows and EBITDA (earnings before interest, tax, depreciation and amortisation) going forward," said executive director and acting ceo Chan Chee Beng in a statement.
Bumi Armada has an order book of MYR25.8bn, with potential extension options worth MYR13.3bn, which will provide steady cashflows and earnings in the future, it said.
The company attributed its performance to lower revenue from the T&I and OSV segments. Growth in FPSO and FGS revenue was driven by increased conversion activity from the Eni 1506 FPSO project, initial recognition of FGS revenue from Armada LNG Mediterrana, and contributions from tanker operations and operations and maintenance activity from the Armada Claire.
The low oil price continues to dampen sentiment and activities in the offshore oil and gas services sector, and the market is likely to be challenging through 2016.
"We are actively monitoring the performance of all business units, and will focus on further improving the productivity and efficiency of the group, including additional cost reduction measures, as may be necessary," the group said.
While the OSV and T&I businesses would continue to be volatile, the FPSO business remained robust on the back of long-term firm contracts and the on-going conversions, Bumi Armada said.
Meanwhile, its new FPSO vessels would only start to come on-stream in 2016, it added.